Travis Johnson, DDS
The people I meet and work with are the most vital parts of my dental practice. I am passionate about helping people achieve their goals, whether I'm helping patients achieve the smile they want or health they deserve, or working with my team members to achieve their own professional goals.
My team and I understand that choosing a dentist can be a difficult decision, which is why when trust is built between a dentist and a patient, a long-term relationship follows. I appreciate the trust and faith my patients have in me, and I find it so rewarding to build those relationships.
Education
Professional Memberships
Olympic Peninsula Dental Society
Family and Community
I grew up on National Wildlife Refuges in Nevada, Colorado, Oregon, and California. I moved to the Olympic Peninsula, Port Angeles specifically, in 2006 and moved the short distance to Sequim in 2015.
My wife Kristen was a Navy brat as a kid, living abroad for many of her childhood years. We have known each other since our senior year in high school, and were wildland firefighters during our college summers, which was a great way to help pay for tuition, books, and expenses. She worked for Cisco Systems in the California bay area as an IT Ananlyst and Project Manager, was the marketing coordinator for the Boys & Girls Clubs of the Olympic Peninsula for a while and spent some time as a portrait photographer.
My oldest daughter Kariya junior at Sequim High School. She enjoys soccer, strength training, and choir. You may have seen her in school and community productions. She also loves to draw. My youngest daughter Taryn is a freshman at Sequim High School. Like her sister, she enjoys soccer, strength training, and choir, but she also loves to play basketball and ride her scooter. We also have several furry and feathered friends that run around our small family farm. We currently have cows, goats, chickens, ducks, and two dogs.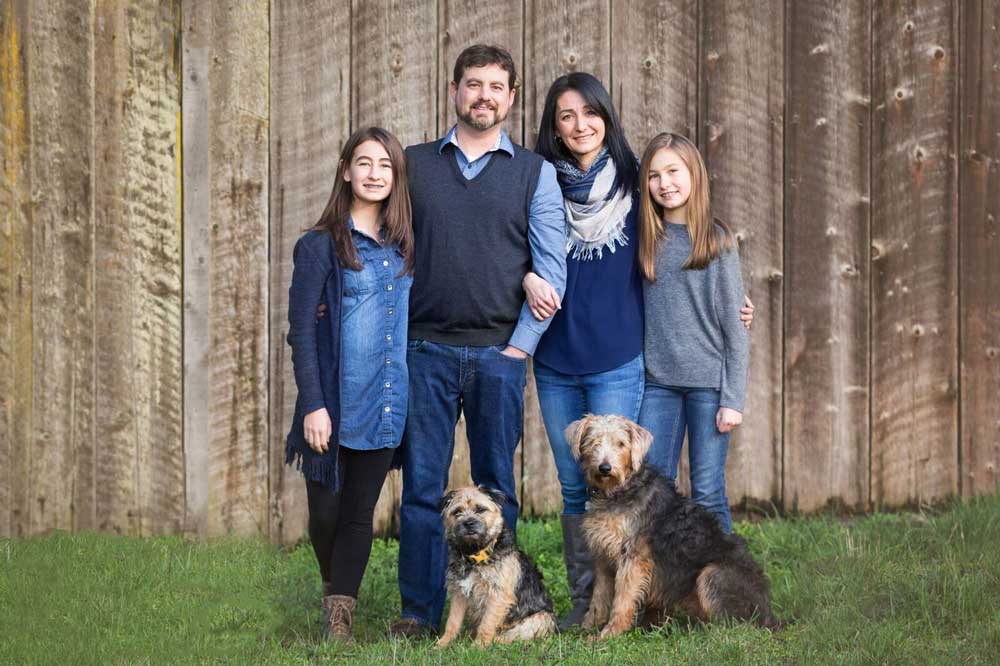 When I'm not at work, I can usually be found working on the farm, feeding cows and goats, and working with the tractor. I also spend a lot of time supporting my children in sports and theater performances.
I feel it's important to understand the community's needs and work together to meet those needs. I enjoy speaking to Sequim students about dental health and the field of dentistry, and I support Kristen in her efforts to connect with the community with volunteering and working with school functions and non-profits. She enjoys giving back to the Trey Green Guild (a non-profit supporting Seattle Children's Hospital) and the Boys & Girls Clubs of the Olympic Peninsula.